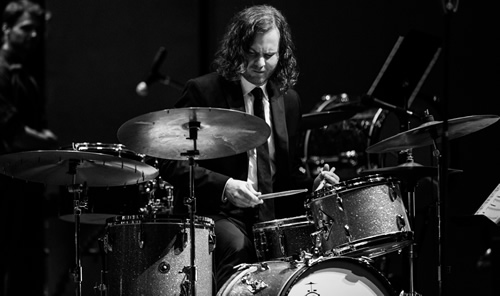 www.StocktonHelbing.com



HOME | VIDEOS | BIO | EDUCATION | STORE
DISCOGRAPHY | PRESS | LINKS | CONTACT




Press Quotes about Stockton Helbing:

A phenom on drums.

- Cincinatti.com
I really enjoyed Patina. It seems I enjoy almost anything that has Stockton Helbing on drums. A great talent you'll be hearing more about.
- ModernJazz.com
You're in the presence of a musical master who lets his inspiration drive his creativity.
- rotcodzzaj.com
Lately Helbing has been carving out a niche for himself by getting creatice with the contemporart jazz and fusion scene, taking an older style and giving it some updated treatment.
- wonderingsound.com
Helbing gives mainstream jazz a good name. He consistently finds inventive ways to present new flavors where many musicians who work the mainstream field only
give vanilla ice cream.
- emusic

[Helbing] lays a solid foundation, spiced with tasty fills.

- Modern Drummer

When the grade is entered, it's no Secret that Helbing has passed this latest test with room to spare and continues to show promise as a drummer and leader.

- All About Jazz

He's still more about taste and dynamics than flash and razzle dazzle.

- Jazziz Magazine

This young man promises to make a mark in the drummer's world. He has found a way to express his own voice and has made the achievement to be one of the best drummers that visionary "Boss" Maynard Ferguson has ever hired.

- Jazz Review

I thought Helbing might spontaneously decombust right along with the drum set, either that or reveal he's really a robot. While the next minute he caressed the cymbals as if seducing a lover. He was truly awesome.
- The Vail Daily